…
CINERAMA INFOTAINMENT
The all new Cinerama Infotainment system of the New Fiat 500 La Prima by Bocelli hatchback, with a 10.25" display, with a JBL Premium Audio System mastered by Andrea Bocelli, allowing you to enjoy an unparalleled sound experience during every journey. The ultra-fast Bluetooth pairing connects all smartphones in the car. The system offers an intuitive, easy-to-use customisable interface, in which the driver can arrange the screen-layout according to their personal preference. Equipped with a fully integrated Navigation platform, which shows drivers up-to-the minute traffic information, refreshed every 30 seconds, including traffic density, speed cameras, parking, EV stations, and destination weather information.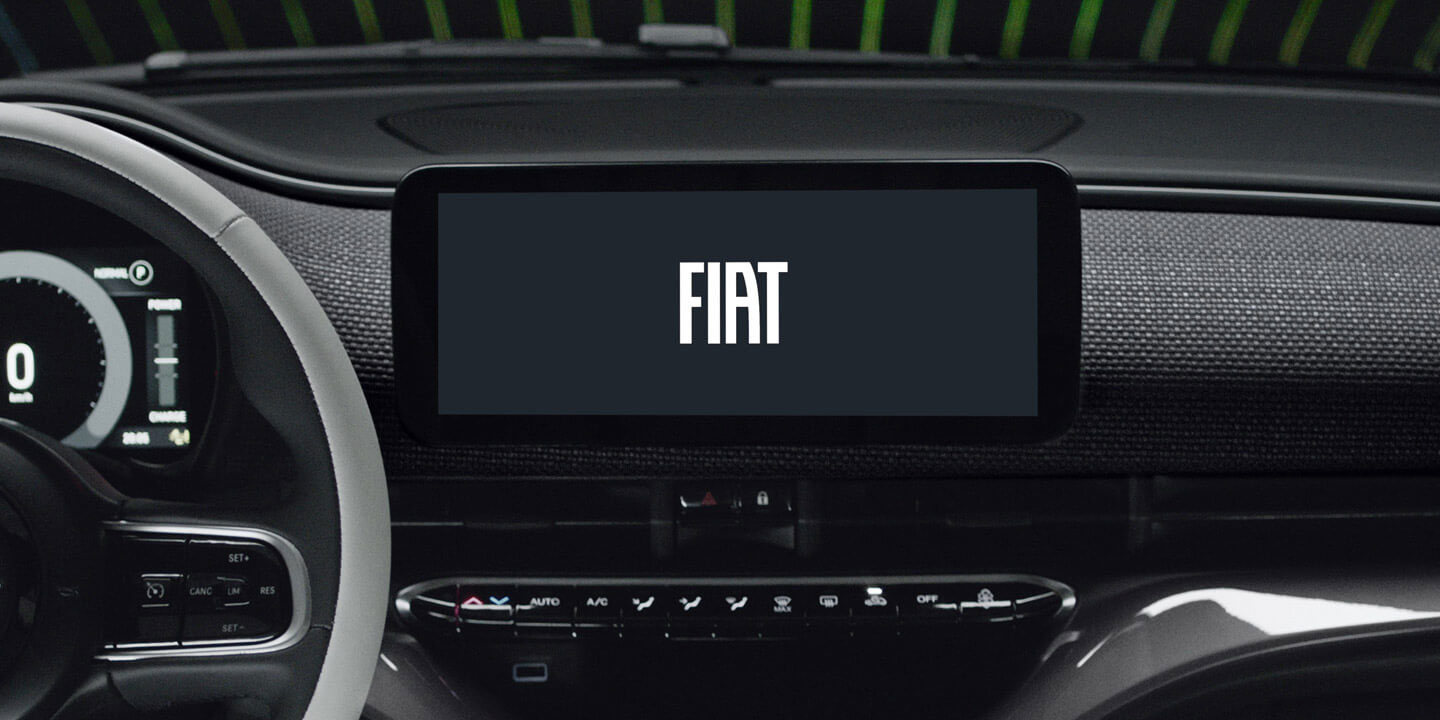 MASTERFUL SOUND
Mastered by Maestro Andrea Bocelli and engineered by JBL, this premium audio system is the perfect accompaniment to any journey. Choose from four different virtual venues to experience your music or podcast, each one with its own acoustic characteristics. Two tweeters, two midwoofers, two full-range speakers, a subwoofer and amplifier from JBL set the stage for an impressive audio experience for everyone on board.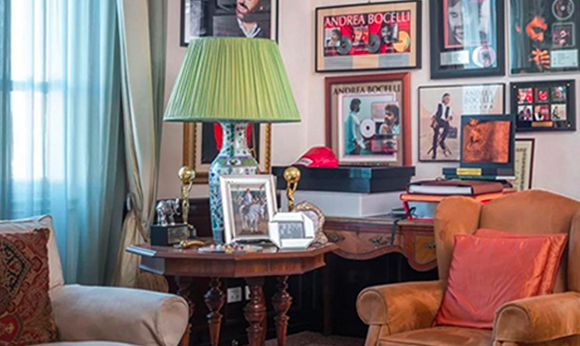 #1 My Music Room
Transform your New 500 La Prima by Bocelli hatchback into an intimate musical experience. The acoustic settings are characterised by warm sounds that give an up-close and personal feel to whatever music you choose.
Best for: Unplugged, Folk/Acoustic, Pop and Hip-hop. 
"Like my favourite music space at home: a relaxing cocoon dedicated to sound perfection." - Andrea Bocelli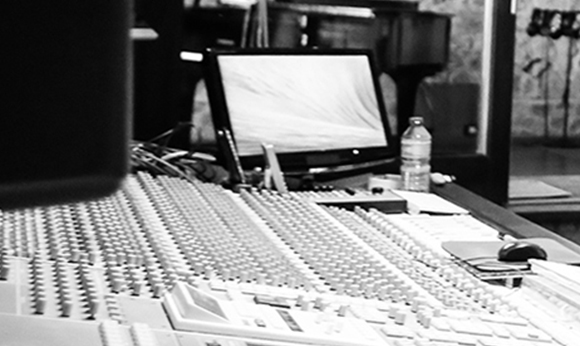 #2 My Recording Studio
Get lost in the sound of your favourite musician or podcast host. Experience great acoustics and settings that seem to isolate you from the rest of the world, as if you were in the recording studio.
Best for: Jazz, Blues, Chamber music and Podcasts.
"The acoustics of my own studio: An intimate space engineered for artists to capture perfection." - Andrea Bocelli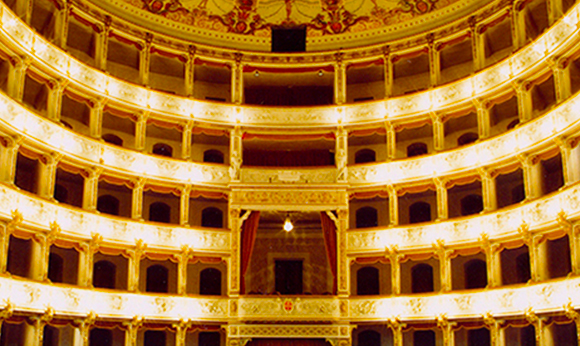 #3 G. Verdi Opera House, Pisa
Listen and take in the music as if you had the best seats every time. Get the feeling of a live venue – where you're seated front and center – for a lively, exciting sound mix.
Best for: Orchestras, Opera and Orchestral Movie soundtracks.
"I made my debut at Teatro Verdi in Pisa, one of the finest venues in the world. We acoustically mapped it to give you the full Opera House experience." - Andrea Bocelli
#4 My Open Air Arena
Transform the New 500 La Prima by Bocelli hatchback into an arena or stadium. Hear the difference and experience the effect of being in the middle of a large venue.
Best for: Live performances.
"These acoustics are inspired by Teatro del Silenzio, my own Tuscan hilltop arena where the peace of nature plays host to the pure energy of open-air performances" - Andrea Bocelli
CINERAMA INFOTAINMENT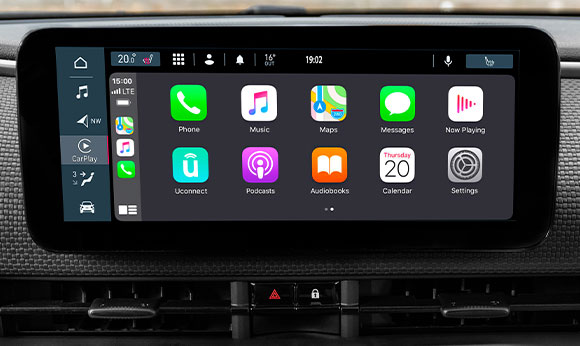 WIRELESS APPLE CARPLAY
Connect your iPhone to the Uconnect™ 10.25" display and control Apple CarPlay wirelessly with Siri voice control or the touch-screen. Wireless Apple CarPlay is the smarter, safer way to use your iPhone in your car. You can get directions, make calls, send and receive messages, and listen to Apple Music, audiobooks or podcasts while still staying focused on the road.
Click here to explore the compatible devices.
CarPlay, iPhone and Siri are registered trademarks of Apple inc.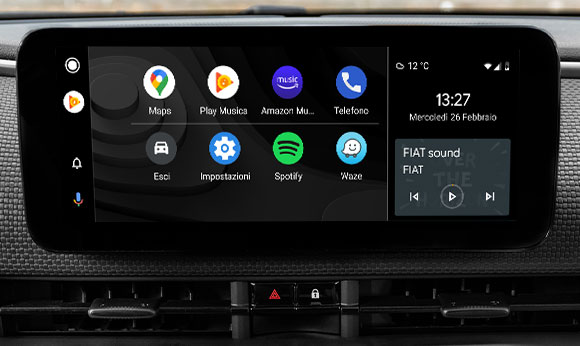 WIRELESS ANDROID AUTO™
The New 500 La Prima by Bocelli hatchback is also compatible with Android Auto™ and it can connect wirelessly (with compatible phones). Once your smartphone is connected to the city car, the user-friendly interface displays your apps on the Uconnect™ 10.25" display. You can manage music and contacts, and thanks to Google Maps you can explore maps, traffic conditions in real time, directly from the touch-screen and without putting safety at risk.
Google, Google Play, Android Auto are trademarks of Google LLC.
To use Android Auto on your car display, you'll need an Android Auto compatible vehicle, an Android phone running Android 5.0 or higher, and the Android Auto app.
To use Android Auto Wireless you will need to have one of the following
• Any smartphone with Android 11.0 and a 5 GHz Wi-Fi network. In the European Union, smartphones must meet additional regulatory requirements in order to use the 5 GHz Wi-Fi network in the car.
• Google or Samsung smartphone with Android 10.0.
• Samsung Galaxy S8, Galaxy S8 + or Note 8 phone running Android 9.0.

Click here to explore the compatible devices.