…
TECHNOLOGY
Technologically advanced and ready to hit the road. Your new (Tipo)RED hatchback will surprise you with its features.
KEEP EVERYTHING UNDER CONTROL
With Lane Control, if the car unintentionally moves out of its lane while driving over 37 mph, the system will provide a visual indication on the instrument panel accompanied by steering resistance to bring the car back into lane limits.
SPEED ASSIST & TRAFFIC SIGN RECOGNITION
The new (Tipo)RED detects and recognises traffic signs and displays them on the TFT cluster. With speed limiter active it's also possible to limit the car's speed to the maximum allowed level read by the Traffic Sign Recognition system.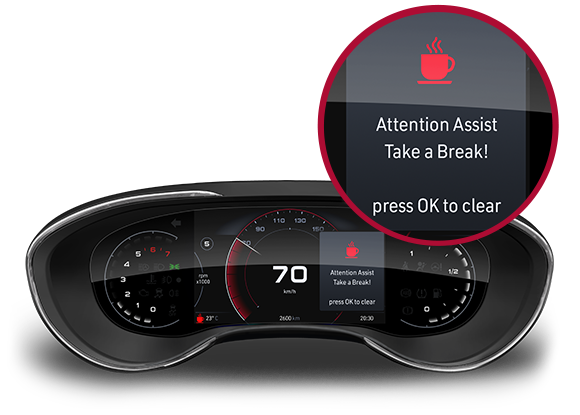 ATTENTION ASSIST
With the Attention Assist, the driver monitoring system can detect the initial signs of fatigue by monitoring lateral movements of the vehicle, advising the driver to take a break. In addition, a visual and acoustic warning will be recorded on the instrument cluster.
AUTONOMOUS EMERGENCY BRAKING
Avoid or mitigate collision with the preceding vehicle, at speeds of up to 124 mph. At first, the car just alerts the driver with an acoustic and visual warning in the instrument cluster. If the driver does not respond, the system initiates braking the vehicle to help avoid or mitigate the potential impact.
ADAPTIVE CRUISE CONTROL
The new (Tipo)RED Adaptive Cruise Control System uses its front radar to maintain the preset safe distance from the vehicle ahead driving faster between 19 mph and 99 mph.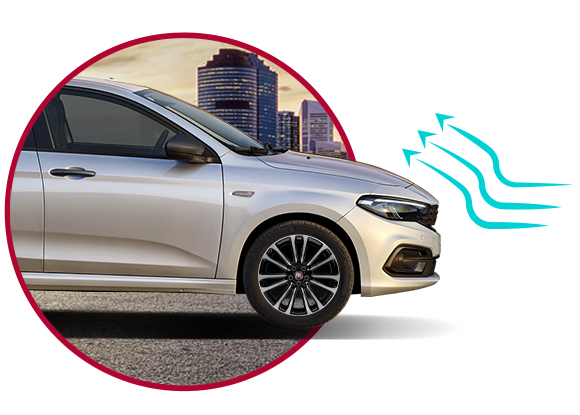 ACTIVE GRILLE SHUTTER
This system optimises aerodynamics by using vents within the grille to adjust airflow to the engine department. As a result, it grants a faster engine warm-up, reduces noise, and protects the cooling unit.
ADAPTIVE HIGH BEAM
It makes night time driving safer, ensuring wide visibility by enabling you to drive with high beams all the time while avoiding glare from oncoming vehicles or vehicles ahead.